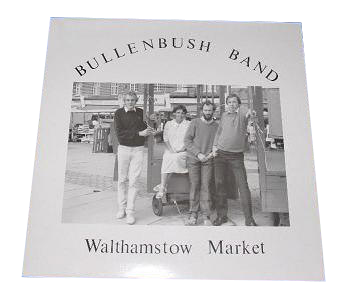 Track Listing
Looking for a Partner/John of Paris
The Clown
Walthamstow Market
Seasons
Lady of Mystery
Blackbird
When Civilisation Comes
Galopede/Double Lead Through
The Walking Tune
Edith & the Kingpin
Wintry Night's Schottische/Blue Eyed Rascal
My Bill
Walthamstow Market was recorded and released on vinyl in 1987. The album was recorded, produced and mastered at Middlesex Polytechnic School of Music by Tony Gibbs and Ian Bembridge. Walthamstow Market features some traditional arrangements, original songs by Ian Bembridge and Sue Bembridge and covers of Sandy Denny, Joni Mitchell, P.G. Woodhouse & J.Kern.
Buy Walthamstow Market
Folk rock record collectors or anyone interested in purchasing an original press copy of the record should contact the band directly. Please note that stock is very limited.
Musicians on Walthamstow Market
Sue Bembridge – Vocals, Treble & Alto Recorders, Yamaha DX7 Synthesizer, Martin 016 Acoustic Guitar
Ian Bembridge – Vocals, Martin D35 Acoustic Guitar, Fender Stratocaster Lead Guider, Fender Precision Bass
John Bullen – Hohner Accordian, Upright Piano, Yamaha DX7 Synthesizer
Steve Deeks – Bodhran, Snare Drum
Press
Go back to Discography.